About Black Plastic Poly Sheeting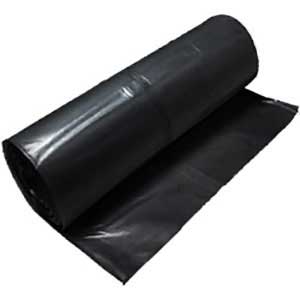 Have questions? Let our top-notch customer service answer your questions. Toll free: 1-800-227-8479.
Our Black Poly Sheeting can be used to protect equipment, machinery and materials from dust, moisture and dirt.
EXCELLENT FOR:
• A vapor barrier to contain hazardous dust, asbestos, lead paint and in mold remediation work
• Temporary walls
• Weather-proofing
• Covering fresh concrete and under mulch in landscaping
• Haunted houses for Halloween
Also, more economical than drop cloths for painting. Made from strong, black low density polyethylene plastic. Use inside or outside to cover, protect, separate or moisture-proof.
Black polyethylene sheets are strong absorbers of sunlight, and get very hot. Black sheeting has longer useful lifetimes than Clear Poly.
SUGGESTED USES:
• .31 and 1.5 mil - dust and paint overspray covers.
• 2 mil - furniture covers, dust cover, short term floor cover.
• 3 mil - economical vapor barrier, temporary wall.
• 4 mil - moisture and vapor barrier, mulching, weather protection, concrete curing.
• 6 mil - heavy duty mulch underlayment, concrete slab vapor barrier.
Our black sheeting film is available in widths ranging from 3' to 50', and in thicknesses from 0.3 mil (0.0003 in) up to 10 mil (0.01 in). Reinforced, Flame retardant and consumer sheeting rolls are also available.
Please call for sizes and prices at 1-800-227-8479.
VIEW IN OUR STORE