This is a product guide to help you determine what kind of black plastic sheeting is best for your project. If you already know what you are looking for and are ready to buy, click the 'To Webstore' button above.
Types and Use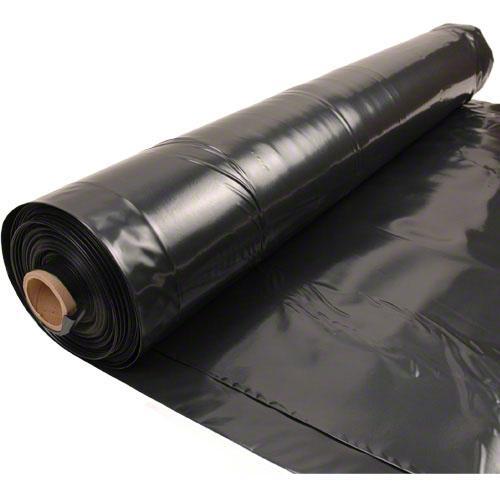 PRIMARY USES:
• Garden solarization - 4 mil black standard
• Weed barrier - 6 mil black woven
• Haunted house walls - 4 mil black flame retardant
Our black plastic sheeting comes in many varieties, sizes, and mils and can be used in landscaping, organic gardening, construction, and general protection against dust, moisture and dirt.
Black plastic visqueen is ideal for garden solarization because it is a strong absorber of sunlight and gets very hot. Garden solarization is the process of completely covering a section of turf with non-porous plastic to prevent anything at all from growing. Furthermore, the extreme heat generated by the black plastic kills any aggressive weeds or rhizomes underneath the plastic. This is helpful in gardening because it allows for a complete 'reset' of a given area and can destroy hard-to-kill weeds like Bishop's weed that multiply under the ground with rhizomes. Solarization is often the only way to kill these kind of aggressive weeds short of replacing the soil. Solarization is also used in farming to decontaminate soil and reduce pests in preparation for planting. Usually 4 mil plastic is sufficient, but if the installation is long-term or subject to harsh weather conditions, you may want to consider 6 mil or 10 mil instead.
There is another landscaping use for black visqueen; the woven variety is widely used as a weed barrier. The porous nature of the woven sheeting allows water to pass through to nourish the existing soil and plants (it is cut around existing plant stems) while the tight weave prevents weeds from growing. When this method is used, the sheeting is traditionally covered with mulch or sod (the small roots can grow down through the weave) to give a pleasing, natural appearance.
Lastly, 4 mil black flame retardant plastic sheeting is standard in all haunted houses. Fire code requires that haunted houses use flame retardant plastic, black is appropriately spooky and dark, and 4 mil is strong yet economical enough to cover large spaces and walls.
Our black plastic rolls are available:
In the thicknesses of 4 mil, 6 mil, and 10 mil
In widths ranging from 10' to 40'
In standard, woven reinforced, and flame retardant varieties

Click the button below to browse our selection, or read a description of each type in our product guide below.
BROWSE BLACK PLASTIC SHEETING IN OUR WEBSTORE