Clear 4, 6, and 10 Mil Visqueen Plastic - Standard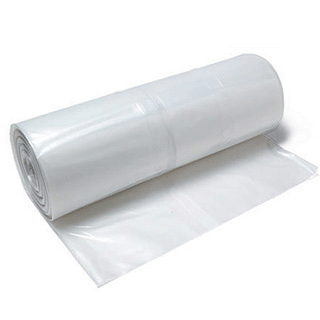 Standard Black Visqueen Plastic Available In:
• 2 Mil Clear 8x200
• 4 Mil Clear (Multiple Sizes)
• 6 Mil Clear (Multiple Sizes)
• 6 Mil Clear 20x100 (Bulk Pallet)
• 10 Mil Clear (Multiple Sizes)
All with free shipping over $100!
We sell standard clear visqueen plastic made from polyethylene in a wide variety of sizes and mils. 2 mil clear is highly economical and is often used as a heavy duty painting drop cloths or as a lightweight dust barrier for non-hazardous projects. It is easy to handle and used by those who need a lot of visqueen at a low price. 4 mil clear plastic sheeting is slightly heavier and is used when an inexpensive but sturdy solution is required. Common uses include protecting machinery and equipment, for dust barriers in non-abatement situations, and for drying chambers. Our 4 mil plastic is also available in virgin 'Ultra Clear' when maximum transparency and clarity is preferred (still has some cloudiness.) Ultra Clear is ideal for winterizing windows (from the inside; for outside protection and endurance, you will need the strength of string reinforced.)
6 mil clear plastic sheeting is one of our most popular products, as it is heavy enough to be used as a vapor barrier to block moisture, or as a dust barrier in abatement situations, but light enough to be affordable and easy to handle. Due to its popularity, we offer a listing for 30 bulk rolls - with free shipping! That price can't be beat. We also offer 10 mil clear plastic sheeting which is used in many of the same applications as 6 mil clear when additional strength is required; it provides superior puncture resistance, impact, and tensile strength for heavy duty applications in which wear and tear is a factor.
VIEW IN WEBSTORE