This is a project guide that contains information on how to create landscaping weed block with plastic. We can help you decide what the best kind of plastic is for your garden. If you already know what you are looking for and are ready to purchase, head to our webstore using the 'To Webstore' button above.

There are two primary methods for plastic weed barriers in the garden. One is to use woven landscaping plastic sheeting, which allows water to permeate through but prevents weeds from growing. The other is to use standard black plastic sheeting, which creates a solid barrier that completely blocks weeds as well as water. This is best used for low water xeriscaping, soil solarization, or a plant-less installation covered with rocks, gravel, or permenant mulch. There are pros and cons to each method. Let's take a look at each one.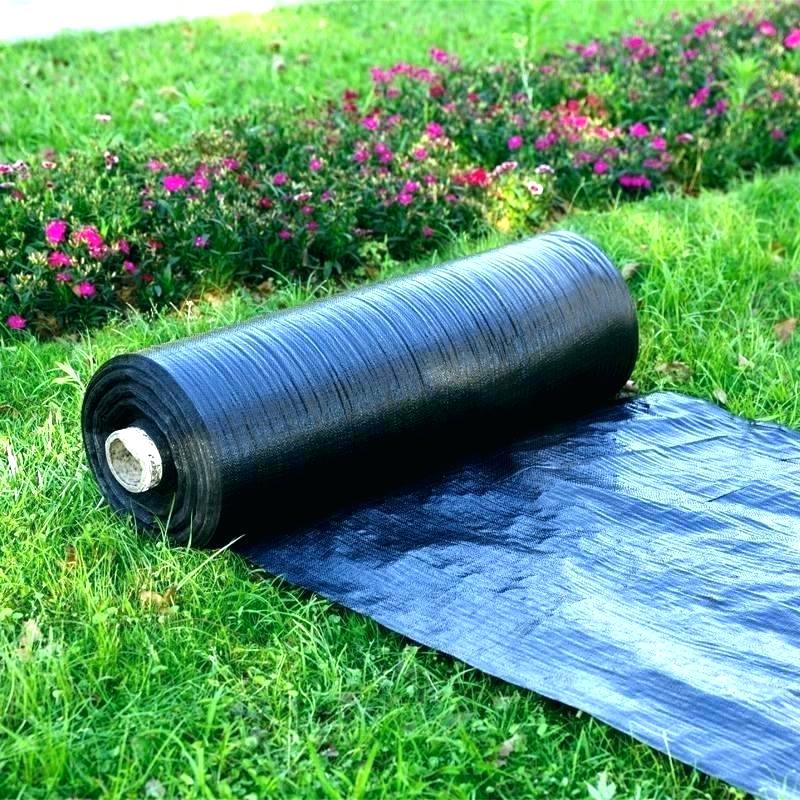 Woven Landscaping Plastic Weed Barriers
This is what most people are referring to when they use the term 'landscaping fabric.' It is manufactured from strong polyethylene fibers that are woven together in a tight bond. This allows water to seep through, but prevents weeds from receiving sun or pushing up from below. It limits the use of herbicides for weeds and reduces evaporation from the soil, keeping it moist for longer periods of time and lessening the need for watering. In any 'normal' planter full of water-loving plants, this is the plastic weed barrier that should be used. The breathable, permeable plastic will keep existing plants healthy. Because it is intended to be left in place for a long period of time, it is not recommended for vegetable gardens or annual flower beds that change plantings often.

For this type of traditional weed barrier, we recommend our 6 mil black woven plastic or our 6 mil clear woven plastic, depending on the color of your installation.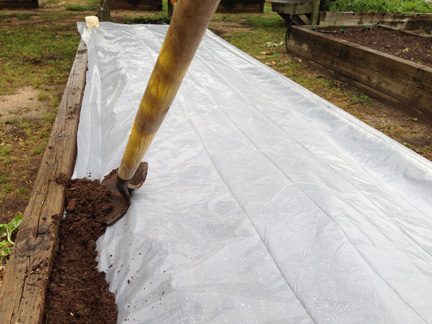 Solid Plastic Weed Barrier
There are many reasons you may want to use a solid barrier in the garden. Farms often use the process of soil solarization in order to prepare soil for planting. In solarization, a solid clear or black barrier is placed over the desired area. It blocks out all water, photosynthesis, and even gas exchange. This deprivation combined with the sunlight heating up the plastic eradicates weeds, pests such as nemotodes and insect eggs, and even harmful bacteria. When planting time comes, the purified soil is mixed with fertilizers to infuse nutrients. Backyard gardeners may want to use the same process in order to fully destroy aggressive rhizome weeds like Bishop's Weed, pests, or harmful bacteria.

Solid weed barriers can also be used in xeriscaping (using only low-water plants and mulch to conserve resources and cut down on maintanence) by cutting around existing plantings or cutting to make room for new ones. For this, we recommend clear sheeting rather than black, as the black sheeting may heat up the soil too much and destroy the roots of your low-water plants.

Lastly, impermeable plastic is also the best choice for zero plant installations that will be filled with rock, gravel, or mulch. This can be a garden pathway, a minimalistic rock garden, or as a highlighting contrast around a large plant such as a tree.
For these methods, we suggest 6 mil plastic. It is relatively thick and will create a strong barrier to block all weeds. If you are looking for the most permanant and durable long-term solution, you may want to upgrade to 10 mil. We have both 6 and 10 mil available in either clear or black; whichever is better for the visual of your installation.
Plastic Weed Barrier Installation Instructions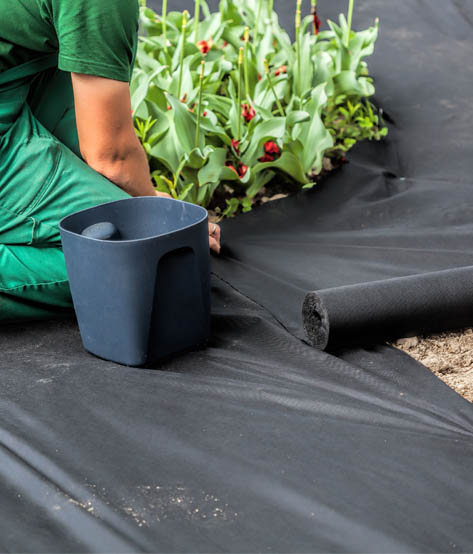 Supplies:
• Chosen plastic sheeting roll (most commonly, 6 mil black woven, but see description of each type above if you need help choosing)
• Stakes / Anchors (landscaping pins are optimal)
• Garden Shovel
Directions:
1. Remove any plants or weeds growing where the weed barrier will be placed. Also remove any sticks, twigs or rocks that might tear the weed barrier. Any tears in the weed barrier will allow weeds to grow through.
2. Cut the weed barrier in pieces to fit your space and place the weed barrier on the ground. Overlap pieces by about six inches. Use rocks to hold the plastic down during the installation process. Once all the weed barrier has been properly placed, attach it to the ground using landscape pins, stakes, or anchors. Ideally, you should use landscape pins and place them 8-10 inches apart, paying extra care to the edges of your landscape fabric. You want this to last for years; better too many landscape pins than not enough.
3. Cover the weed barrier with mulch or stone. The choice of weed-barrier cover is usually based on cost, availability and aesthetics. Some weeds may sprout in organic mulch, but the amount is minimal compared to the growth in open soil. If you want absolutely zero chance of weeds, use a non-organic mulch such as rocks, gravel, or rubber mulch.
Additional Tip: You can also place black plastic sheeting down before laying bricks, pavers or other materials for walkways or patios. This will prevent weeds from growing up between the bricks.
Frequently Asked Questions
What are Weed Barriers?
Weed barriers, also known as weed blockers, are designed to prevent weeds from growing in garden beds, flower beds, and other landscaping areas. They are typically made from permeable material, allowing water and nutrients to pass through while blocking out sunlight, which is essential for preventing weed growth.
Can You Put A Weed Barrier Over Existing Weeds?
Yes, you can lay a weed barrier over existing weeds. However, it may not be as effective. The best approach is to remove existing weeds before laying down the barrier, as the fabric might block out enough sunlight to prevent weeds from continuing to grow.
Does Weed Barrier Fabric Let Water Through?
Most weed barriers are designed to let water pass through the fabric. This not only helps plants to thrive by receiving the necessary nutrients but also ensures that the area remains weed-free. It is essential to consider using a high quality weed barrier fabric to ensure long-term effectiveness.
What is the Best Weed Barrier for Gardens, Flower Beds, and Rock Landscaping?
Choosing the correct weed barrier for your garden or landscaping project is critical to ensure your plants thrive without unwanted weed growth. The best weed barrier for your exact needs will depend on several factors, such as the type of plants you're growing, the amount of sunlight and water they need, and the overall look and feel of your landscaping.
To help you make an informed decision, let's look at some of the most popular weed barrier options available.
Woven Polypropylene Weed Barrier: This type of weed barrier is made from solid and durable woven polypropylene fibers that block sunlight and prevent weed growth. It is an ideal weed barrier for flower beds, gardens, and other landscaped areas that requires plenty of water.
Landscape Fabric: Landscape fabric is weed barriers that are made from non-woven materials and are relatively thinner and less durable than woven polypropylene barriers. However, it's more permeable, which allows water and nutrients to pass through easily. This type is ideal weed barriers for under rock landscaping and other areas where plants need less water.
Permanent Weed Barrier: This type of weed barrier is made from thick, durable materials and is designed to last for an extended period of time. While this weed barrier is often more expensive than other alternatives, it also can be more effective at preventing weed growth. It is considered one of the best weed barriers for gardens with high-traffic, and other landscaping areas that need weed prevention.

How to Choose the Best Weed Barrier?
Permeability: When choosing a weed barrier, finding one that strikes a balance between allowing water and nutrients to flow through while effectively blocking weed growth is essential. You want to ensure that your plants get the nourishment they need while keeping pesky weeds at bay.


Durability: When selecting a weed barrier, it's important to find one that can endure the ever-changing outdoor conditions and last for an extended period. You don't want to be replacing your weed barrier every year, so make sure to opt for a sturdy option that can withstand the test of time.


Price: Finally, before making any purchase, take a moment to consider whether the price of the weed barrier aligns with its quality and value. Keep in mind that investing in a durable and effective weed barrier can save you time and money in the long run by preventing weed growth.
Where to Buy the Best Weed Barriers?
If you're tired of constantly battling weeds in your garden or flower beds, then you might want to consider investing in weed barriers. These nifty materials, also known as weed fabrics or weed blockers, can be a game-changer for any gardener looking to keep their outdoor spaces in order.
At Discount Visqueen, we offer top-of-the-line weed barriers designed to prevent weeds from growing while allowing air and water to circulate freely. Our products are made with high-quality materials that are durable, long-lasting, and eco-friendly.